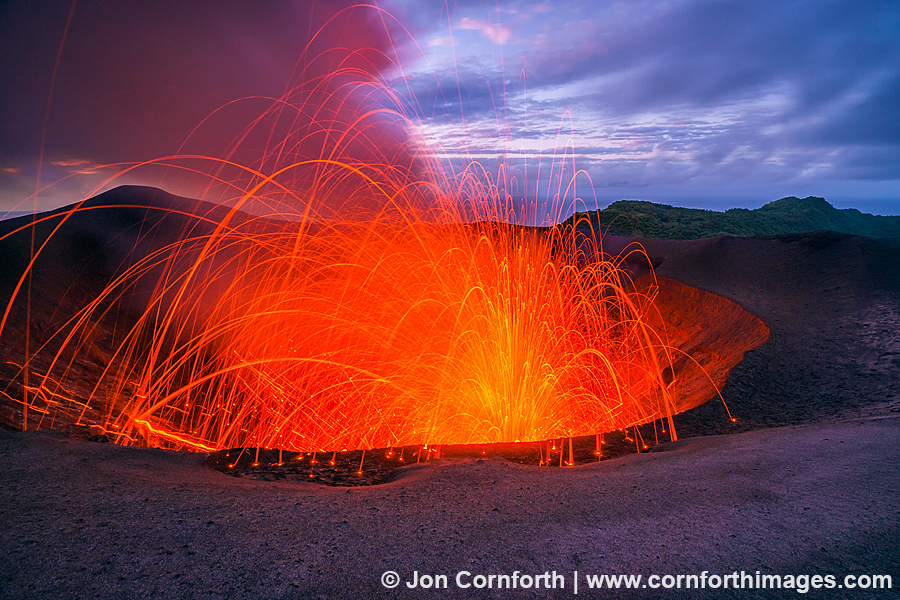 Posted by Jon Cornforth on July 5, 2017
I recently returned from an adventure that I had been dreaming about and attempting to do for over a decade. Years ago when I first started photographing lava, I learned about the Yasur Volcano located on remote Tanna Island in the South Pacific island nation of Vanuatu. It is not the easiest place to get to and the amenities won't meet most people's requirements, but it is an incredibly accessible and rewarding location to shoot. I spent a week working with a local chief which allowed me and my frequent travel partner Steve Levi special access to the volcano.
The first time we approached the crater rim via the relatively short but steep hike from the parking area, the deafening explosions and sulfur filled air overwhelmed my already excited senses. When I finally observed my first strombolian eruption, I began to question my sanity. I had heard stories about lava flying through the air and impacting way too close for comfort. Of course, one of the two times this happened to me was during my very first visit to the caldera. It was one of the most brief and horrifying moments of my life, but fortunately the lava landed safely to my left. At least I had gotten that experience out of the way.
Over the course of my week long exploration, I visited the volcano 9 times. Sometimes it was cloudy, sometimes it was clear. There were even a few times where it was raining so hard, that there was no point in even trying. I had a lot of 4am and 4pm starts with all of my best images created during the 30 minutes before the sun rose or after the sun set during the beautiful twilight light. The volcano exploded about every 5 minutes on average. I can not adequately describe the incredible experience of glimpsing and then being blasted with the shock wave while standing in this location with my camera set up on my tripod. I pushed my camera's shutter button on every explosion, but it was the extraordinary large ones like this that allowed me to create my best images.